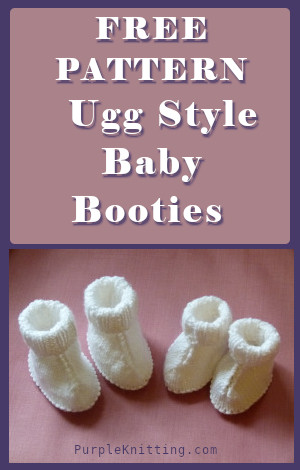 I found this Ugg style baby boots knit pattern for free on Marianna's Lazy Daisy Days Blog and thought it would be perfect to knit up for a new baby soon to be born into our family. I was searching for free easy baby knitting patterns for beginners and this fits that criteria perfectly. I just love the look of these boots as they look so like a tiny 'weeny' version of the grown-up ones.
Time & Project Difficulty
This knitting project is suitable for beginners as it does not involve advanced stitches. To do it you only need to know how to do 5 basic stitches. These are the knit and purl stitches, knit into the front and back of a stitch (kfb), knit 2 together through the back loop (k 2tbl), and purl 2 together through the back loop (p2 tbl)
Even if you don't know how to do the last 3 of these, just watch these videos (below) I found on YouTube that demonstrate them for you.
Purl 2 Together Through Back Loop
For your convenience, I have embedded a video here that shows how to do the purl 2 together through the back loop. Just practice it a couple of times til you get the idea.

Knit 2 Together Through Back Loop
Here is a video that shows how to knit 2 together through the back loop.
How to Knit into the Front and Back of a Stitch
It took me just less than two hours to knit a pair of these baby boots, so it's a nice quick project for anyone – even a beginner!
List of Materials Required
Double Knitting Yarn in one or two colours depending on your preference. To make them look like the real adult ones, knit them using a beige colour with white.
Sewing needle to stitch up knitting
Instructions
Download the complete pattern HERE
What I like about this design is that it's available in several sizes – premature, newborn, 3, 6 and 9 months.
Tips, Challenges & Overall Experiences
I found this pattern to be very easy to follow and complete quickly. I did not find it challenging at all. The only tip I can offer, if you are not too familiar with how to do the three extra stitches, is to study the videos that show you exactly how to complete them.
My overall experience was a good one as these little boots look quite endearing once sewn up, and I think my niece is going to love receiving them for her baby!
Now, it's your turn! Click on the link under the instructions section above to download the pattern, purchase your materials and start knitting!