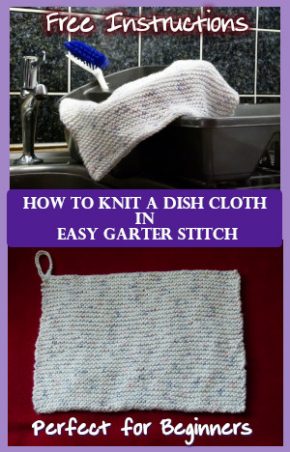 In this post, you'll learn how to knit a dishcloth in easy garter stitch.

If you're new to knitting this is a good starter project for you as it only uses a few of the basic skills.

During this project, you will need to make a slip knot, cast on, knit in garter stitch and cast off. Don't worry if you have not yet mastered these skills as the video below illustrates them very clearly.

In the video, the cloth made was quite small. I like to have a bigger one for doing the washing up so I made it quite a bit larger. As I have arthritis developing in my hands ( too much gardening) I find a bulkier cloth does not make my hands ache as much.


This pattern could also be used for bathroom washcloths and even extended to bathmats.
Time & Project Difficulty

This project is an ideal starter project for absolute beginners. It will give you practice on the basic knitting skills of casting on, garter stitch and casting off.

There is nothing more satisfying than learning a new skill and being able to create something useful at the same time. Depending on the size, this project could be completed in an afternoon.
I like knitting them as "in-between" projects when I am working on something that is more long-term. Sometimes you need a break and these are perfect for that!
Supplies Needed
100% Cotton Yarn for dishcloths – King Cole Cottonsoft Crush DK Yarn
Short Bamboo Knitting Needles – 25cm 4mm (US 6)
Crochet Hook to make the chain by which to hang up the cloth
Hand Sewing Needles with Large Eyes – to sew in the ends which neatens up your project
The materials for this project are inexpensive. Once you have the supplies you'll be able to make quite a few dishcloths. Save them as stocking fillers or as little gifts for friends and family. What colour scheme do you have in your kitchen or bathroom? Choose a cotton yarn colour to match that.
Step by Step Instructions
1. Cast on 60 stitches. As mentioned previously, I wanted a bigger cloth. If you want yours to be smaller just adjust the number of stitches to the size you want.
2. Knit in garter stitch on every row until you have the size of cloth you would like. Mine measures 26 cm by 19 cm.
3. Cast off the stitches leaving one on your needle.
4. Transfer the last remaining stitch from the knitting needle to your crochet hook. Make a chain of about 6 cm in length.
5. To make a hanging hook on your cloth, bend the chain back on itself and attach it back onto the cloth using either a half-double crochet stitch, or sew it with a hand sewing needle with a large blunt eye.
6. Sew in the loose ends of cotton yarn by threading it in and out of the knitted cloth
These dishcloths are the perfect starter project if you are just learning to knit. Think about making a set of them – a dishcloth, washcloth and bath mat – in colours to go with your home decor. Friends and family will appreciate receiving them as gifts for Christmas or birthdays.
Once you have mastered this basic pattern, there are a wide variety of other patterns you can try such as these HERE