*This post may contain affiliate links for which I earn commissions.*



Christmas is a time when we decorate our homes with all manner of ornaments some of which reflect the nativity scene and others are just for fun. In this post, you'll find 5 free gnome knitting patterns that can be used to add a bit more fun, quaintness and humour to your Christmas display. Each year the same style of commercial mass-produced decorations is available, so making these little chaps up will help to make your home look different.
As the title of this post indicates I wanted to include only those patterns that were available at no cost. At the time of writing, it's correct to say that many people worldwide are experiencing a cost of living crisis. These patterns will be more widely taken up and made up when there is no cost attached to using them. Even though they are free, they are still incredibly clever and the end result will make people smile.
As my website, PurpleKnitting.com is all about the love of knitting, naturally, I have included knitted patterns only - though there are many crocheted and amigurumi ones to use as well.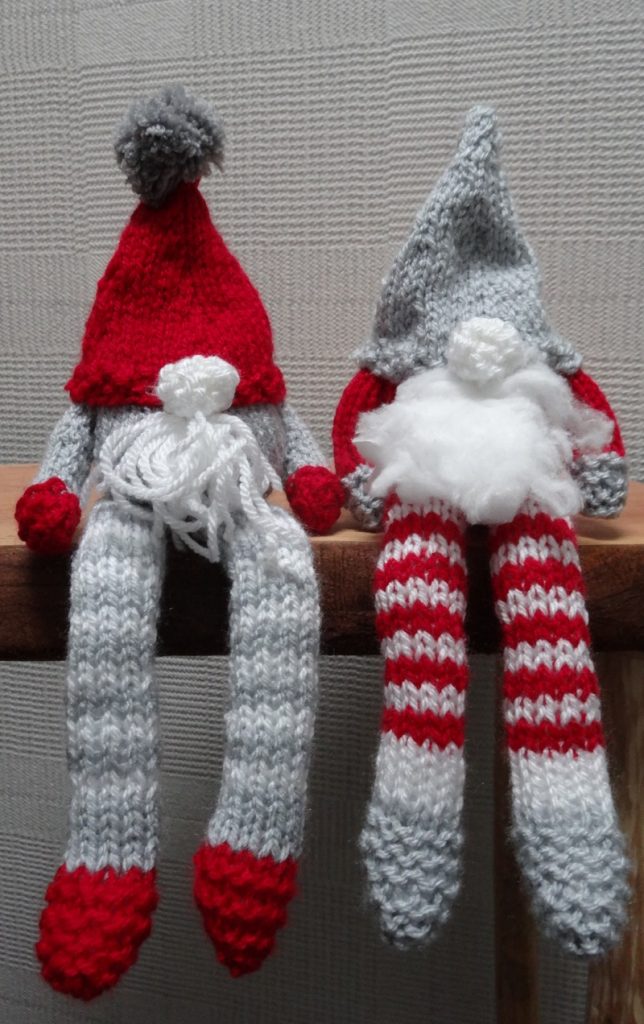 Free Nordic Style Christmas Gnome Knitting Pattern

Click the image above to get the free pattern
I chose this design to be included as the designer has realised and mentioned that there are not too many knitted gnome patterns and therefore created this one especially. As with most of these delightful characters they make you smile as you see them sitting on the shelf appearing to be so full and satisfied - maybe after having eaten their Christmas dinner! I also like the fact they have no facial features on view.
You will need -
* Double knitting yarn in red, white and grey
* 3.5 mm (US 4) knitting needles
* toy filling
* cotton wool or loose pom pom for the beards
Skills required -
* knit and purl stitches
* increase via kfb (knitting into front and back of a stitch)
* decrease via knitting 2 stitches together or purling 2 together
* joining in new coloured yarn
As you can see from the skills needed, this project can be done by a new knitter as it does not involve any complex knitting techniques.

Free Christmas Gnome Pattern to Download


Click the image above to get the free pattern
These 6 inch (15cm) characters are made from
sock yarn,
(fingering / 4 ply ) and 2.25mm knitting needles. This pattern is knitted in the round using dpns or circulars whichever you prefer.
You will need to know how to make an I-Cord which is a narrow tube.
Click here,
to find out how you do this part,
Skills Needed -
* increasing and decreasing evenly over a round
* decreasing by knitting 2 together
* increasing via kfb knitting front and back
* knowing how to knit in the round

Danish Nisser Gnome Knitting Pattern for Free


Click the image above to get the free pattern
These delightful Danish Nisser are made from leftover bits of Fritidsgarn 100% wool but this could be substituted with something similar like this
Paintbox 100 per cent Wool Worsted
The needles required are 5.5mm (US 9) double points or a suitable circular needle.
Skills Needed -
* knitting in the round
* decreasing / increasing stitches evenly in the round
* YO or yarn over
* knitting two together

Free Easy Knit Gnome Pattern Perfect for Beginners


Click the image above to get the free pattern
If you're looking at these patterns and thinking you're not at the level to tackle making one that is knitted in the round, then this one is for you! It has been created for beginners in mind.
You will need some worsted-weight yarn and size 4mm (US 6) knitting needles and knowledge of the most basic knitting stitches - ie knit and purl, cast on and off, kfb (knit front and back ) and knit2 together.
The design is knitted flat and a seam made to create the figure which is then filled with toy stuffing and a weight so that it can stand up.

Pine Cone Gnome Free Knitting Pattern


Click the image above to get the free pattern
I chose to include this design as it is small enough to be made as a Christmas tree ornament. You'll need to know how to knit in the round ( or be prepared to learn how :) ) and how to make an i-cord for the scarf.
It is done in 4 ply fingering weight of yarn and 3.25mm needles. You'll also need to have a wooden bead and a small pine cone to finish off the project.