*This post may contain affiliate links for which I earn commissions.*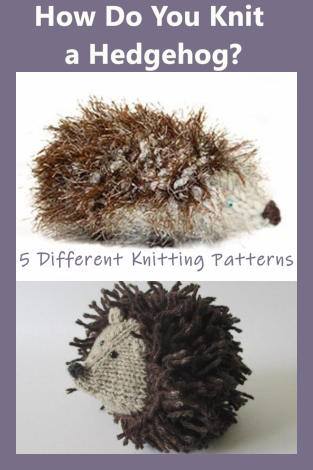 How do you knit a hedgehog? This was the question I asked myself after seeing the soft toy a friend gave my mother recently. A quick search on my phone and I found 5 different versions which I am sharing in this post. So if you've seen these little toys in someone else's home and are wondering how you could make one - here are 5 variations to choose from.
I love
knitting soft toys
and these charming creatures are particularly addictive - once you've made one you'll need to make another!
What to do with them once you've completed them?
If you fancy the idea of making one but are not too sure what you can do with it once it's done here are some ideas.
1. Make them as
decorative items for a room.
My mother has her one perched on the back of her couch. It constantly starts conversations when someone new visits. They could also be placed on children's beds too.
2.
Give them as gifts.
Children and even adults love receiving cuddly soft toys.
3.
Knit loads of them for charity and to raise awareness of their plight in the wild.
Young children and adults can learn all about how endangered hedgehogs are in the world. You could make a whole bunch of them to sell and then send the proceeds to an organization that works to preserve them like the
British Hedgehog Preservation Society
I have chosen these 5 different variations in such a way as to have some that are available at no cost, some using yarn that you are more likely to have lying around at home like double knitting weight yarn and some others which involve using an Eyelash type of Chunky knitting yarn. I hope you'll find just the right one amongst the ones I have chosen.
1. Free Pattern to Make William
The first one on my list below is to make William. He is free to use and there is no cost to download the instructions to make him up.
The yarn used which gives him a fluffy, prickly kind of appearance is from combining the
Lion Brand Wool-Ease Quick and Thick range
with an eyelash yarn.
In this pattern, the Lion Brand Fun Fur yarn is recommended but this has since been discontinued so you will have to substitute with something like the
King Cole Chunky Tinsel yarn
I plan to use the fudge and the gold shades.
If you want to make William click on the first image below to visit the website where you'll be able to download the instructions.
2. Tinsel Yarn Hedgehogs
This design gives you several sizes of hedgehogs to make all done in a novelty Tinsel yarn to give the prickly effect. You'll need about 50g of the tinsel yarn for each creature and a small amount of double knitting to make the snout, feet and ears. Those who have used these instructions say they very quickly became addicted to making these soft toy animals.
Click the second image below to make these sparkly creatures
3. Mum and Baby Hedgehogs in Double Knitting
I chose this design because I liked the loopy effect and that it uses double knitting yarn which many people have lying around at home. So, it is useful as you can reduce your stash of leftover yarn.
4. Standing Christmas Hedgehog with Scarf
My fourth choice caught my eye as he is all dressed up in his winter gear. I like the fact that this soft toy stands up - a bit different from the others. He is made using a worsted weight yarn which you can substitute with Aran weight. Strictly worsted is a little lighter than Aran but for this project it should be fine if that's what you have to hand.
5. Tweedy Design
My fifth choice is for Tweedy who has been created by well-known designer Amanda Berry. I love his pointy face and upturned snout. He can be made using a mix of Aran and double knitting yarns. If you'd like to make him scroll down to the last image on the page and click to visit the website.
Below you will find the 5 images of the soft toys. Click them to visit the websites where you will find the patterns.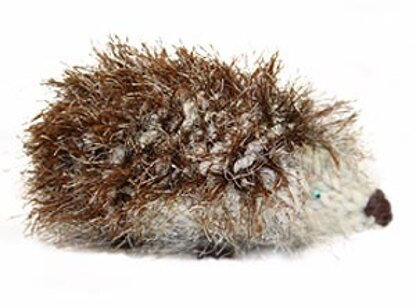 Free Hedgehog Knitting Pattern - William



Tinsel Yarn Hedgehog Knitting Pattern



Knitting Pattern for Hedgehog Mum & Baby in Loop Stitch



Standing Hedgehog Knitting Pattern in Worsted Weight Yarn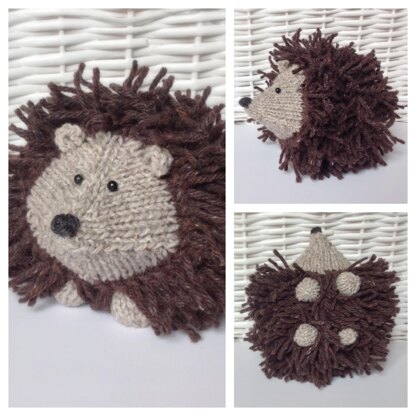 Tweedy Hedgehog Knitting Pattern by Amanda Berry