*This post may contain affiliate links for which I earn commissions.*



As I sat down to write I noticed that today is the Spring Equinox where I live. And you know what that means - Easter is coming! This is why I wanted to share these 5 knitting patterns for Easter toys.
Can you believe it's already the first day of Spring? The birds are chirping, the sun even appeared for a while, and the daffodils are starting to bloom. As we get ready to celebrate this season of Resurrection, renewal and growth, it's an ideal time to keep those knitting needles going with some delightful Easter knitting projects.
This time of year is one of those seasons when there are loads of things to knit. Not only will you have fun creating these cute and colourful items but children will just love them too!
In this blog post, we'll be exploring 5 of the most popular toys to make that fit this time of the year. So grab your yarn and let's get started on creating some Easter magic.
There are several toys to knit for children that fit with this time of the year. However, I have chosen the 5 main ones that I feel will both delight children and are appropriate for the season.


Bunnies - iconic symbols of the holiday, representing new lives


Chicks - beloved symbol of the holiday - hatching eggs and new life


Eggs in a basket - along with some chocolate ones!


Hedgehogs - come out of hibernation in the Spring


Lambs - born in Spring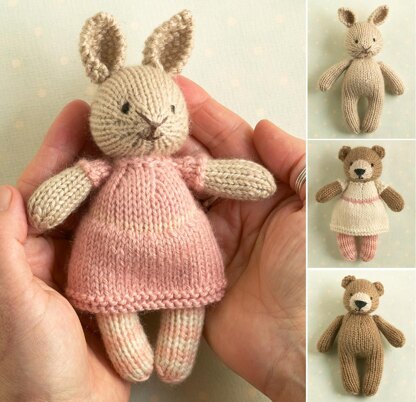 Knitting Pattern for Easter Toys - Bunny


While there are many patterns to choose from, I liked this one because it has the option to be able to make 2 different toys - a bunny and a bear. It is also smaller so tiny hands will perhaps enjoy playing with it more?
The clothes are knitted as part of the toy - that is they are not removable - which means it will be more suited to a younger child.
The work is knitted flat (no circulars required) and seamed up to finish. The instructions are for double-knitting yarn but any yarn can be used along with an adjustment to the needle size - the only difference will be a different-sized toy when completed.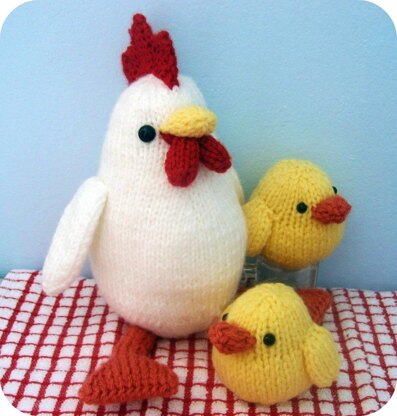 Easter Toy Knitting Patterns - Hen and Chicks


I've included this design because it has the option of making both the hen and the smaller chick as well as being suitable for beginners.
The techniques required are -


cast on and off


knit


purl


increase


decrease


For a refresher on any of these skills go HERE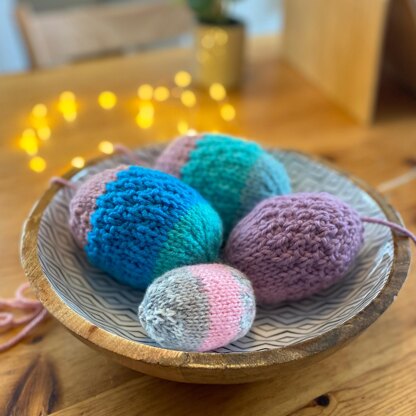 Easter Egg Toy Knitting Pattern


These knitted eggs can be arranged in a basket along with the chocolate variety as a gift to a young child or anyone for that matter! They could also be hung up as decorations. Afterwards, they can be used as balls for children as they are stuffed with polyester fibre filling. Use them to help a young child to learn to catch.
They are knitted flat and then seamed together to create the shape.
Those in the image have been knitted with a chunky weight of yarn and 4mm single point straight knitting needles.
Be creative and make them in any colours you like. The centre part has an area of Irish Moss stitch which gives them some texture and extra interest.
What I like about this pattern is that it's doable for beginners.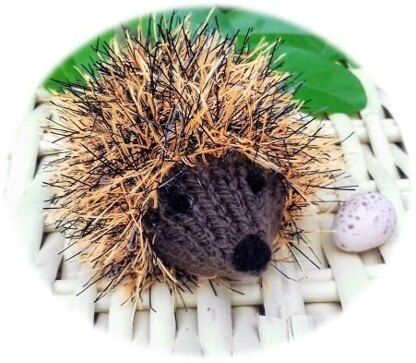 Knitting Patterns for Easter Hedgehog Toy & Choc Egg Cover


Everyone is drawn to the texture of the yarn that is used to make this nocturnal creature that wakes up at the beginning of Spring. They are often used as toys and to cover chocolate eggs.
The little chap is easily made by a beginner knitter very quickly and using leftover bits of
eye lash chunky tinsel yarn
and double knitting. If you don't have the right yarn it is well worth purchasing a ball as without it you will not get the right effect. Moreover, you'll be making more than one of them so it won't be wasted.
---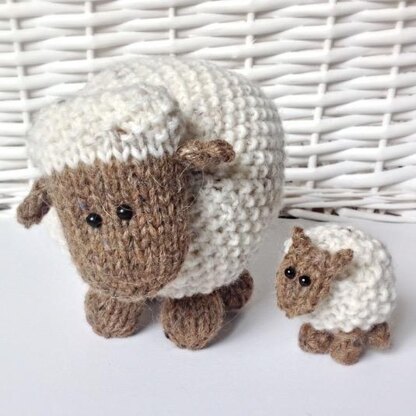 Knitting Pattern for Easter Toys - Little Lamb & Mum


This pattern from well-known designer Amandy Berry can be achieved by a beginner who is willing to find out how to do the techniques they need. The skills involve knitting and purling, increases and decreases and knowledge of moss stitch. It's all done by knitting flat and then seaming up your work to create the animals.
This one uses Aran / Worsted weight yarn
Need more Easter Knitting project ideas?