*This post may contain affiliate links for which I earn commissions.*



At the time of writing this post, there are still 8 weeks to go before Easter so I thought it was a good time to plan ahead by looking for free Easter knitting patterns I can make. My children are grown up and we have no grandchildren yet, but I can still make little gifts for my nieces' children. As they live far away in Africa and Australia I'll need to get them done early to allow for posting time.
In this post, I've shared 5 projects I have chosen to make in the coming weeks. They are all available at no cost to download and can be made from very little amounts of yarn which hopefully will come from my stash.
The benefit about these patterns I have chosen is that they are all very "doable " by new knitters because the skills required are mostly basic ones. If you need to be reminded of the techniques visit the
"Learn to Knit"
menu tab and scroll through the posts to find the one you need.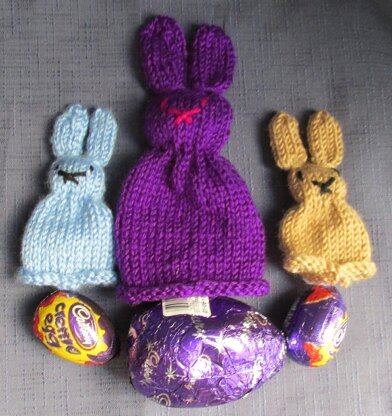 Free Knitting Pattern for Easter Bunny Egg Covers


These tiny knitted bunnies have been designed by
Rian Anderson
to cover various sizes of chocolate Easter eggs. They make novelty gifts for all ages at Easter time. The little bit of extra effort put in to make them shows your family you care. Afterwards, they can be used as a hand and finger puppet or just as an egg cosy to keep a boiled egg warm.
This design is suitable for new knitters as the skills needed to do it are -


cast on and bind off


knit and purl


Knit 2 stitches together


You will need 4mm (US 6) single-pointed knitting needles and some double knitting yarn - 10 to 20g main colour depending on the size of rabbit you're making. Contrasting yarn is used to make the facial features - about a metre or so will do and a few metres of white to make a pom pom tail. I like that this pattern has a way to secure the egg underneath with a cord.
This design is knitted flat and then seamed up afterwards so no double-pointed needles, or circulars - only single points.
---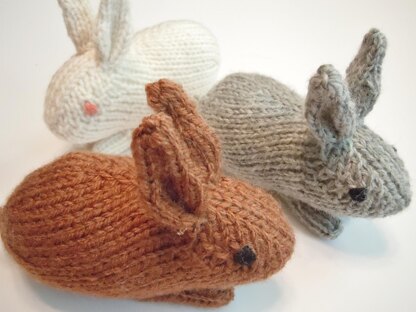 Free Easter Bunny Knitting Pattern to Make


Henry's Bunny design is by
Sara Elizabeth Killner
It is knitted in the round on double pointed needles. If you have not used them before this project is a chance to learn how to use them. Read
this article on how to knit with double-pointed needles,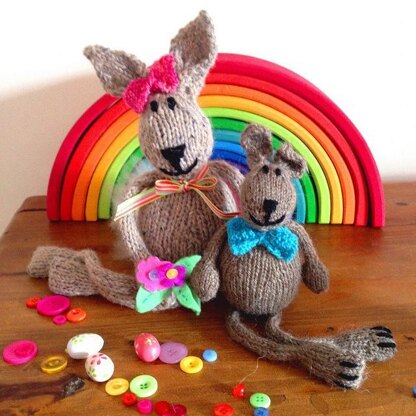 Free Knitted Rabbit Pattern for Easter



This cute rabbit is made from knitting in the round with double-pointed needles for the head and body sections. Icord techniques are used to create the legs and paws. When you download the instructions you'll discover that there is a link to a photo tutorial on how to do the icord section. The instructions are detailed and photos supplied to help with the sewing up section at the end of the project. This is an excellent project to learn some new knitting techniques such as working in the round with DPNs and the
icord technique.
---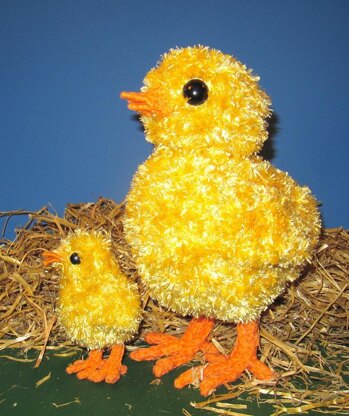 Free Easter Chick Knitting Pattern


These two chicks are made using
any yellow fancy, eyelash or fluffy yarn
and any double knitting orange yarn for the feet. The big chick is created by using larger needles and using 3 strands of the fancy yarn at the same time. The smaller chick uses one strand of the DK fluffy yarn.
Needles?
The larger chick needs 8mm needles and the tiny one uses a 3mm size.
Other Supplies Needed


The eyes are made from 24mm and 12mm safety eyes.


14 large 12inch orange pipe cleaners to support the feet


small amount of toy filling


The knitting skills required for this pattern are


cast on and off


knit and purl


increase via a kfb ie knitting into the front and back of a stitch (or purling)


decrease via a k2together or purl two stitches together


Photos are given to show how to assemble the feet of the chicks.
The skills to make these delightful characters are not difficult but there may be some practice needed when working with this fluffy type of yarn. As with most things practice makes perfect and these two cheerful chicks would be well worth the extra effort.
---

Free Knitted Easter Chick Basket


This Easter chick basket from Gina Michele makes a good size receptacle for a few small chocolate Easter eggs or tiny chocolate sweets depending on the size you make it. Gauge is not important with this pattern. The bigger the needles you use and the bulkier the yarn the larger the basket will become.
The design is a simple garter stitch shape which is knitted flat and then folded over in the middle to create the chick. For this reason it is a good one for very new knitters to make. Use up leftover bits of yellow yarn you might already have.
---
More Easter Knitting Project ideas