*This post may contain affiliate links for which I earn commissions.*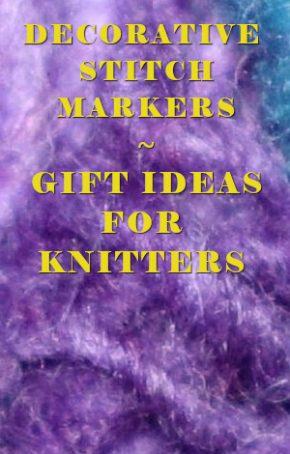 Knitting stitch markers are much like jewellery, not exactly essential, but nice to have. Once you have used them, you will want more.
While making a baby blanket that required me to place a marker in my work, I came across the huge range of these little knitting accessories. Normally I make a plan with a contrasting piece of yarn tied to my needle, but as I am doing more projects these days I decided I needed a better tool for the job.
After looking at various options, I realized that there was more to them than I first thought. So, if you're like me and a bit confused about these essential bits of knitting kit, this post will hopefully make it more clear to you as to which one you need.
What are Stitch Markers Used for?
When you use these little rings - usually either made from plastic or metal - you will never lose the place where you are in your knitting. They are used to mark a certain spot in your knitting work.
Slip them onto the needle when you reach the point in a row at which you need a mark. For example, I needed to mark the place where the border of the baby blanket started so that I would know to start working the seed stitch. Instead of having to keep counting to see if I was 12 stitches away from the end of the row, I merely marked it. Then I could just knit til I reached that marker.
You can also use them to identify the end of a row when knitting in the round with circular needles.
Keep your sanity!
They are useful also when you need to count a large number of rows. Mark a set number of rows with a marker as you knit to make it easier to count up large numbers of rows.
Have you ever looked over your work and noticed that you have dropped a stitch several rows back? Use a split ring marker to prevent it from unraveling in your work.
You Could Make Your Own ....
Like I said earlier, you can make your own, and they will do the trick. Things like paper clips, safety pins and bits of yarn can be used.
However, once you start searching for these little gadgets, and see what varieties, shapes and designs they come in, you will want to own and use them!
Two Main Types
There are two types of markers -
closed and open (or split-ring)
Closed Types
These ones are essentially just a ring which can be slipped onto the needle. They are designed either very simply as a plain ring or can have decorative charms attached to them. These decorative types make very good gift ideas for the knitters in your life - and they are inexpensive too!
Open or Split-Ring
This type of marker can be moved around without having to knit to the point on your needle where it has been placed. They can be locking - like a safety pin - or have a lever mechanism or even have a small gap in the ring. As they are open in nature this type have more uses. If you plan on doing some crochet work then you will need to use this open type.
Ok, so now that we understand what they are, and how useful they are, let's take a look at what's available.
I have chosen five different ones that show a broad spectrum of what's available.
As you can see the more decorative ones are
available in themes.
If you're looking for a gift for someone who knits and also has a love for owls or sewing then these would make a good choice.
Click here for more knitting equipment

Assorted Set of Knitting Stitch Markers with other accessories



Split Ring Type Knitting Stitch Markers



Set of Metallic Stitch Markers for Knitting Enthusiasts



Stitch Markers for Knitters who Love Owls



Stitch Markers with a Sewing Theme